NOTE DATE CHANGE 1 WEEK LATER THAN EVENT CARDS SHOW!!
REV 9/9/17
Date: Saturday September 16th lunch at 1 pm. Come for the whole day.
Who: MJC members and Jeep guest only
Location: Ferrettie / Baugo Creek Oak Tree Shelter (accomodates 150 max)
57057 Ash Road
Osceola, IN 46561
https://goo.gl/maps/bh2d5LQTk862
http://www.sjcparks.org/575/Ferrettie-Baugo-Creek

Park opens at 10am come at that time if you want to help setup otherwise noon is fine.
Dinner 1:00pm MJC to provide H-Bomb cooker Smoked pork wraps, cooler Steam grilled local bi-colored corn, chilled Watermelon, twice baked 6 guy hand cut endless fries, Country Time Lemonade and Ice cold Water.
Cost: 5$ out of county 4$ in county park entrance fee

Events: Corn Hole Tournament for prizes (after lunch), Giant Jenga, 50/50, , kayaking (from boat launch), fishing (designated areas -state rules), frisbee golf.

Ferrettie-Baugo Creek Disc Golf Course- course map
http://www.sjcparks.org/DocumentCenter/Home/View/3618
Daily pass: $4 / adult; $3 / youth (age 15 and under) ...should be free with park entrance fee...oh well
They do have a shop there where you can get real frisbee golf discs.



http://www.flasharcade.com/sports-games/play/corn-hole-game.html
Prize pool--
wifi HD wifi Drone
Ion Sports Camera with mounts
Wiley X glasses - compliments of Allegan Eye Care

assorted logo items....


[youtube]https://youtu.be/2qWTLD5Igaw[/youtube]

Last names starting with....

A-P bring a side dish
Q-T bring a desert
U-Z bring a salad type dish

Helpers should get there at 10am (when park opens) to setup and stay to take down as needed.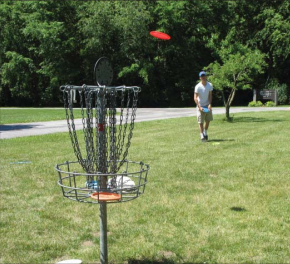 [/color]